Keep up to date with all the Latest News from Genets Carp Fishing Lake
---
Sad News.
May 06, 2020
As Larry did his morning walk with Murphy today he found a dead fish, unfortunately it was our Big Girl. The fish have been grouping-up getting ready for spawning this week but so far have not started to spawn. She was very bloated & full of spawn, we believe she was spawn-bound from last year as her weight didn't drop last year as it has in previous years after spawning.. She will be hard to replace.
---
Netting the Silverfish Nov 2019.
November 23, 2019
November 5th 2019 & as it was 3 years since we last netted the lake to remove most of the silverfish the time had come to have it done again. A total of 751 Kilos of silverfish were removed which is a significant amount, we were of course very pleased with that result. As we do not lower the water level by much most of the resident carp managed to avoid the net due to the nature of the lake bed having lots of deep feeding holes etc, but the ones we did see were in pristine condition. As well as removing the silverfish there were also 40 Kilos of Pike taken out. Our thanks go to Matthew of MP Fishing Consultancy for organising the netting for us.
---
Genets 2019 Trophy winner
July 14, 2019
Light hearted friendly competition for Martin, Gary, Dave & Adam this week fishing for their yearly France fishing trip trophy, the winner this year being Gary.
---
July: Ben Cooper 44lb 10oz PB
---
Craig's PB Soaking
June 01, 2018
A great write-up from Craig Crowther on his week in May spent at Genets Carp Lake.
The Mulb tears up Genets Carp Lake in France.

So after arriving at the lake and coming 1st out of the peg draw, I was buzzing to choose the far end of the lake, with a long tree line to my right and a reed fringed far margin looking proper carpy! So without wasting any time I got a mix of the Northern Plum and Supreme Marine chucked in a bucket and went for a wonder up to the far margin to give a wide spread of boilies up and down the reeds, rather than obvious piles of bait on single spots. So I wrapped my rods up at 24 wraps and chucked them up againsts the far reeds, Ronnie rigs all loaded with the new "The Ones" Mulb pop ups, and then got my head down for the night. After a quiet night I got up first light to watch for showing fish….. And I wasn't disappointed.......... continue reading Craig's full write-up here.
---
Alan's Birthday Carp Fishing Holiday.
July 31, 2017
Alan, Ange & Pete Bond are with us again this year for their 2 week French Carp fishing holiday which started with Alan celebrating his Birthday yesterday with after dinner wine & Birthday cake.
Happy Birthday Alan
---
---
May: Lee 2nd PB 43lb 14oz.
A string of new PBs at Genets lake for Lee & Chris
May 14, 2017
During the second week of May Lee, who has wanted to go on a carp fishing in France trip for 20 years finally made it & the new PBs just kept coming for him, with his first 3 fish all being PBs. First a 34lb 4oz second a 43lb 14oz followed by a third new PB at 46lb 12oz. Lee said "The whole experience was more than I expected from the stunning fish we all caught not to mention the facilities, the food and the hospitality we received and the guidance of Larry pointing out some spots and tactics"
During the same week Chris arrived at Genets carp lake hoping to catch at least a 40lb'er but beat that with his first fish & a new PB at 52lb 4oz.
Well done guys, great angling. To read their full feedback review click here
---
This Genets 60lb+ Carp loves the camera!
May 07, 2017
We are really not sure if this carp just adores it's food or maybe just loves having it's photo taken but it decided to put in yet another appearance, this time on Tuesday 2nd May to Scott Fyles giving him a new PB at 62lb 13oz, well done Scott :-)
---
A new PB at Genets Carp fishing for Matthew
April 19, 2017
A massive "well done" to Matthew Morgan this morning who has landed his new PB @ 61lb 8oz!!
Last time Sam & Matthew were at Genets Matthew's biggest fish caught here was 41lb so a new PB today indeed.
---
Preparing for the 2017 season at Genets Carp Fishing Lake
March 12, 2017
Well we've come out of winter hibernation mode & are well into preparation for the start of our 2017 season. Prior to what seemed a never ending big freeze throughout January we had cleared & burnt a mountain of leaves & cut back bushes etc where needed. Swim platforms are being repaired where necessary & having a general spruce-up around the lake. It's almost officially spring which means a spring clean of all the facilities so spick n span for visiting anglers. On a carpy note the weather is warming up, lake is looking good & we're seeing plenty of signs of fish moving around all over the lake & feeding which is always great to see after the winter. Looking forward to welcoming back many of our regular customers & meeting new ones. See you soon guys
Photo is of Anthony with a 44lb 8oz from last year.
---
New French "Clean Air" Stickers.
February 24, 2017
A few guys have asked us if they will need to display the new French "Clean Air" stickers when driving to Genets this year. The answer is a resounding No as the route to Genets Lake does not go near any of the cities where these stickers are required!!
A bit of info below on this law:
The French clean air stickers - called Crit'Air vignettes - are part of a six-category sticker system that applies to all motor vehicles in certain areas to identify what emissions they produce.The vignette, or sticker system has been introduced to reduce the emissions output in larger cities, so on days where certain cities are at risk of reaching their Euro emissions limit, heavily polluting vehicles can be refused entrance based on the Crit'Air sticker they are displaying on the windscreen.The stickers are currently in use in Paris, Lyon and Grenoble.They apply to all road vehicles including motorbikes and affect both French residents and foreign drivers. Full info in English can be found by clicking here
This RAC page has lots of general info & advice on driving in France.
---
Genets Lake netted to remove silverfish
November 13, 2016
November 2016 & time to have the lake netted again to remove most of the silverfish. Just under half a ton of silverfish were removed so very pleased with the result. Most of the resident carp managed to avoid the net due to the nature of the lake bed, lots of deep holes etc, but the ones we did see were in pristine condition. To watch the video click here
---
End of season maintenance work starts @ Genets Carp Lake
October 30, 2016
We are at the end of our first week of our closed season at Genets Carp fishing Lake & the start of maintenance work has well & truly begun!!!
The weather has been very kind to us, dry, warm & sunny most of the time, without those cold easterly winds of the previous 2 weeks. So we've made a good start giving the lake what we call it's "winter haircut" cutting down most of the reeds & grasses in & around the edges of the lake & I must just mention what a slave driver Larry is ( I guess I should be used to it by now) although he did at least give me a bit of time out to spend trying out my new present…..a petrol leaf blower……so follows a good couple of months of daily leaf clearing & burning.
As it was dry we also had our very own bonfire day, no fireworks though :-( burning the ever accumulating mountain of cut branches etc in the field.
---
New lake record for Genets carp fishing France
October 06, 2016
At around 5am today Thurs 6th Oct Paul Gilead banked the new lake record Mirror Carp @ Genets Carp Lake weighing an astounding 64lb 8oz also a new PB for Paul who said "I am absolutely buzzing & could not sleep since catching it"
Well done & congratulations Paul.
---
Ted's 2nd PB 46lb
Ted has largest Carp of the week & new PBs.
October 02, 2016
Jen & Ted Handley are seasoned Carp fishing in France anglers but last week was their first visit to Genets Carp Lake for their carp fishing holiday & although Jen using her special garlic bait ended the week with the most fish having landed 10 carp to 35lb Ted came out the winner for the largest carp renewing his PB twice during the week the first being a 43lb Mirror on Tuesday followed just 2 days later with a 46lb Mirror. Between them they caught a total weight of 551LB.
You can read their full review of the week here
---
Alfresco dining @ Genets Carp Lake
September 27, 2016
Dave, Alan, Pete & Sam enjoy getting together for their annual carp fishing holiday to Genets carp lake making the most of the sunny weather in mid Sept to dine alfresco & finish it off relaxing with their favourite French cheese selection accompanied by a bottle of fine French wine....total chilling!! ,
---
Sept: Steve Busby 41lb 9oz
A great week for Steve & the guys
September 19, 2016
On Steve Busby's last visit to Genets in 2014 he had numerous 30lb+ carp & a 57lb'er but a 40lb Carp just eluded him, happily for him he made up for it on this year's visit with a cracking 41lb 9oz Mirror.
Fishing with Steve were Scott, Jimmy & Ben. Scott was last here in 2008 along with his Dad Harry & Jimmy so we were really pleased to see Scott again. After a dreadful storm on Tuesday night Scott was "chuffed to bits" to land a 38lb Mirror the next morning.
Ben had a new PB @ 42lb 9oz, I think the smile on his face says it all!!
All in all despite the very mixed bag of weather the guys had a great week & say they are already looking forward to next years trip to Genets Lake & we are certainly looking forward to seeing them again...they kept us laughing all week :-)
You can read their full review here
---
Mick 60th Aug 2016
Mick's 60th Birthday
August 21, 2016
Mick Hutchings with Son Matthew & friends Andy & Brian have all been regular visitors to Genets Carp lake since 2007 when Mick & Brother Pete both celebrated their Birthdays here.
This year Mick celebrates his 60th Birthday but on the Saturday he travelled home. A good reason we thought to bring it forward by a few hours & serve up a gooey French style chocolate Birthday cake for dessert on Friday. Happy 60th Mick.
If anyone in your group will be celebrating a Birthday during their carp fishing holiday week at Genets lake in France do let us know in advance & we will be more than happy to organise a Birthday cake.
---
Aug: Cameron 44lb 10oz PB
Great carp catches for twins at Genets Lake.
August 07, 2016
Twins Cameron & Grant Bartlett took a break from their hectic ice-hockey playing lives to spend a relaxing week away carp fishing in France at Genets lake. With the whole lake to themselves & perfect fishing weather the fish kept them busy & between them they had 39 fish the biggest being a new PB for Cameron @ 44lb 10oz.
Read their full report here
---
How to make the most of a kilo of boilies
July 27, 2016
The guys at CARPology have written a great article about getting the most out of your bait. Well worth a read if you're heading over to Genets carp fishing in France.
Because using loads of bait isn't essential - here's eight different ways you can use your boilies and maximise your chances.
Bait can be expensive, there's no getting away from it. So how do you maximise your kilo of proven carp-catching boilies down at your local water, whilst ensuring you get the very best value for money from your hard-earned cash?
Read full article here

---
My preparation for a French carp fishing holiday.
July 26, 2016
A very informative article written a few years ago by Martin Timbers on his preparation for his carp fishing trips to Genets Lake. I have been carp fishing for over 30 years so I suppose I can say that I have seen many changes and caught a fair few fish in this time. Anyway I thought that my knowledge and experience would be a great help for anyone thinking of going to France to do some Carp fishing. First of all sit down and think what venue and where in France you would like to fish. There are a number of venues that stock different fish and size of fish. Then my plan begins.
---
Mid Season maintenance work at Genets Carp Lake
July 24, 2016
16th to 23rd July: Mid-season maintenance & general tidying up work carried out at Genets carp lake as we had no anglers on this week. Mega hot week with temperatures in the 30's a couple of days but armed with the most important equipment our bottles of chilled water we toiled on …maybe that should really read struggled on!!! Anyway after taking a break on Tuesday (by which time we were wilting) & treating ourselves to a rare lunch out with friends the jobs all got done which included replacing the boards of the platform at swim one, & having a general good cut & clear of hedges, brambles & just about everything else that grows around the lake so all spruced up again ready to welcome this week's 3 anglers yesterday.
---
June: Mark Hughes
Mark's Birthday Treat
July 04, 2016
A belated Birthday present for Mark Hugh's from his Family was a French Carp fishing holiday with us at Genets carp lake last week & what a superb week Mark had with plenty of angling action & ending his week with 15 Carp, a mix of Mirrors & Commons including a new personal best Mirror Carp.
---
June: Lee 45lb 4oz PB
New PB's for Lee & Stuart on their first visit to Genets Lake
June 26, 2016
We had the pleasure of welcoming Lee with his partner Michelle & Stuart with his partner Jeanette to Genets carp lake last week. For Lee it was his first carp fishing trip to France , he beat his PB 3 times over, firstly with a 34lb, next was a 37lb topped off with his 3rd Personal Best of the week at 45lb 4oz all were Mirror carp. Lee & Michelle's full review of their week can be seen by clicking here
Whilst Lee was kept busy at one end of the lake Stuart who was working hard futher along was rewarded with a new Common carp PB of 36lb 12oz plus a new Mirror carp PB of 44lb 8oz.
---
Lake record Pike caught
June 25, 2016
Now I know we are a Carp fishing lake but this is just too good so had to share it...on Monday afternoon one of Stuart's rods went off with what he hoped was a carp but once he struck into it he realised it was not....& promptly landed a pike at just over 24lb....what a surprise to us..biggest pike that's ever been caught here!!
---
Matt's new PB Common Carp
June 11, 2016
A good week was had by Carp fisherman Matt Tregenza at Genets carp fishing lake in France this week who now has a new PB Common Carp @ 36lb.
---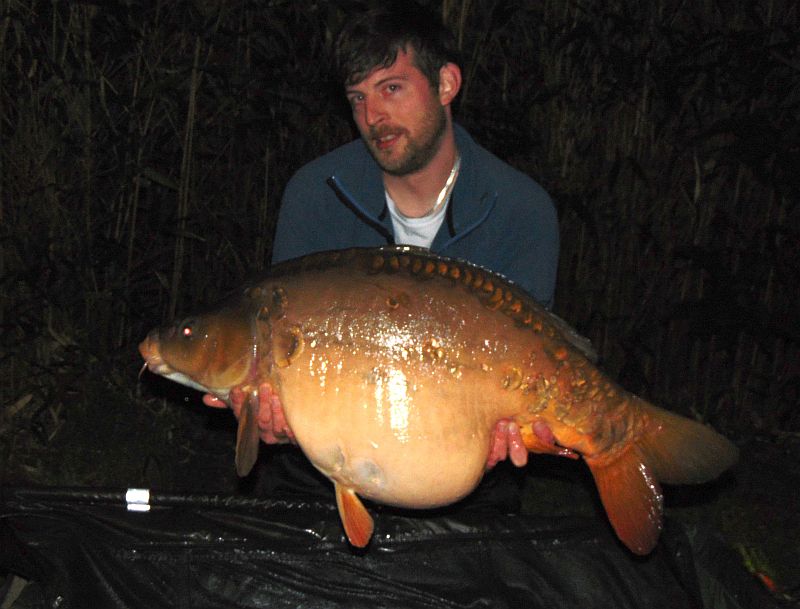 June: Tim 45lb 7oz 2nd PB
Tim goes home with 2 new PB Mirror Carp.
June 05, 2016
A top week had by Tim who was absolutely made-up to have a new PB Carp on Sunday with his first fish at 33lb 11oz not only that but on his last day in the early hours of Saturday he topped that PB with a new one of a 45lb 7oz Mirror Carp & went home yesterday one very happy carp angler. His 2 fishing friends also went home with new PB's of 37lb 6oz Mirror carp for James & a 42lb 11oz Mirror carp for Adam. Top angling guys.
---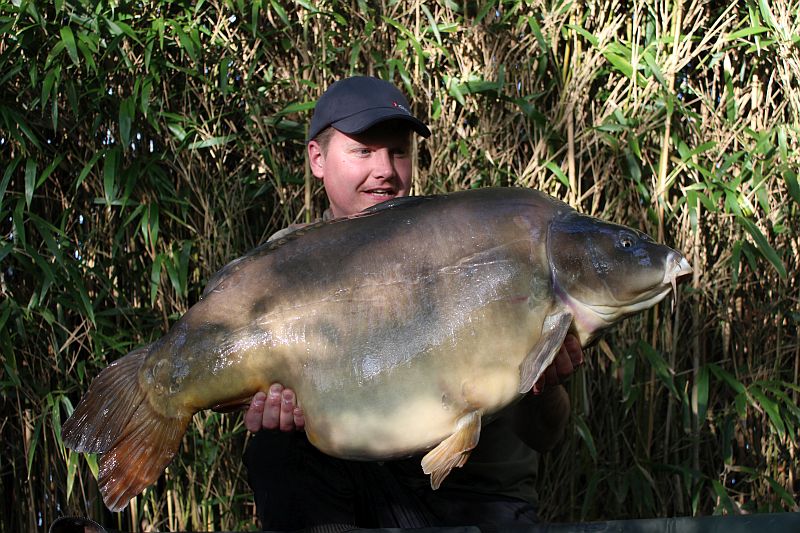 May: Adam Wellings 61lb 2oz PB Mirror
Amazed at how this Carp likes to feed.
May 22, 2016
We're just amazed at how this Carp likes to feed!! Last Sunday evening a breathless Dave came running round to the house shouting "Larry, Adam has got the 60lb'er out"
Less than a week after it was last caught, must have sulked a bit, dropped a few ounces in weight then decided it was time to try a different flavour boilie, chocolate orange never used here before. Sure not rig-shy this one!! Adam's words were "biggest Carp I've ever seen & biggest I've ever held" So a new PB Mirror for Adam which he followed later in the week with a new 35lb 4oz PB Common.
---
May: Carl 48lb 8oz
3 x 40's & a 60lb'er for laid back angler Carl
May 13, 2016
Quick update for this week. Carl (who is one of the most laid back anglers we've ever met) on his first French fishing trip has banked 3 x 40s & a 60 over the last 2 days. It's been new PB after new PB for Carl. For anglers who have fished here & know the lay-out these were all caught from the swim opposite the house which can at times be the most difficult to catch from. All out on the new Mainline Essential Cell.
---
April: Nathan O'Neill 1st PB 32lb8oz
New PB's keep coming for Nathan.
April 30, 2016
Nathan O'Neill along with Brother Anthony & mate Glenn left for home today with 3 new PB's. Nathan's first Mirror PB @ 32lb 8oz came at 1am Sunday followed just under 4 hours later by another Mirror PB weighing in at 40lb 2oz then just to top his week off for him a PB Common weighing 34lb 8oz at 7 on Saturday morning just as they were starting to pack up.
Well done Nathan :-)
---
April: Billy 62lb 8oz PB & Lake Record
Genets lake record's first appearance of 2016.
April 22, 2016
Genets lake record put in it's first appearance of the 2016 season this morning Friday 22nd April going to a stunning 62lb 8oz also giving Billy McDonald a new PB. Billy found it difficult to hold so was given a helping hand by Larry.
---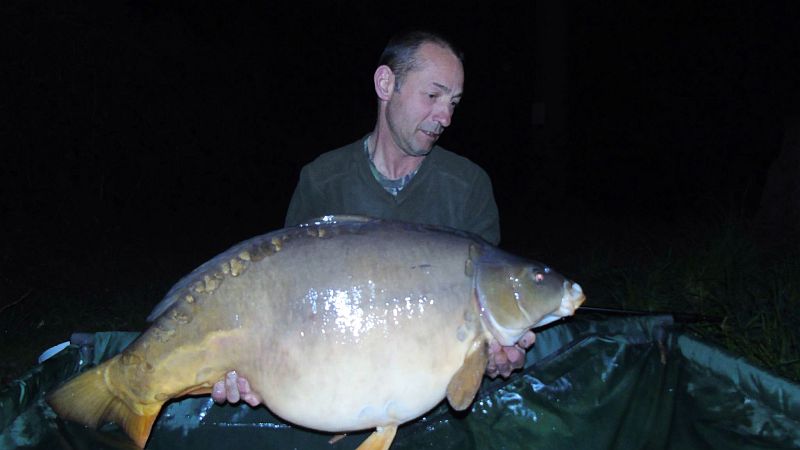 April: Rob Ellis 45lb 6oz PB
Rob's New PB
April 21, 2016
News in from Rob Ellis last night "Well its been a few days coming but at last I've been rewarded with a new PB of 45lb.6oz from Genets in France and I'm absolutely buzzing"
Well done Rob for perseverance in tough conditions
---
Stop Press...News just in!!
April 11, 2016
News just in from Paul Butler: "Well what a night I'm having on Genets, not the biggest fish in the lake but definitely the best looking the zip Linear at 47lb essential cell again."
Great news, well done Paul
---
Jason 52lb 11oz PB
2015 Highlights
December 19, 2015
A selection of highlights from the 2015 season at Genets showing some of our visiting Anglers throughout the year with their new PB's.
Wishing everyone a Happy Christmas & all the very best for the New Year, look forward to seeing some of you in 2016. Larry & Heather.
---
J Allen 60lb 3oz PB & Lake record
Genets First 60 !!
September 22, 2015
The call we have been anticipating all season came at 11.00 last night Mon 21st Sept when Bruiser (James Allen) landed the new lake record at 60lb 3oz. Bruiser is here with long standing regular Chip Talbot's Diss International Carp Kings AKA D.I.C.K.S on their annual trip to Genets.
The weight was verified by Larry on our scales.
This beauty came out to Dan Jones part of the same group last year @ 59lb 9oz.
Well done guys :-)
---
Ecstatic Peter !!
August 12, 2015
Regular visitors Peter, Alan & Angela Bond are now into the second week of their 2 weeks fishing holiday with us, Angela who does not fish enjoys relaxing & reading her Kindle. They were joined for their first week by their friends Kelvin & Adrian Sheldon who we last saw in 2011, they departed on Saturday 8th with a very happy Adrian going home with a new PB of 34lb 4oz both saying they are now looking forward to seeing us again in 2018 for Kelvin's 50th Birthday.
An ecstatic Peter arrived at breakfast this morning Wednesday 12th Aug saying he is having an absolutely awesome time as not only did he smash his PB Common last week by 10lb but at around 6am today he also smashed his Mirror PB by a further 10lb taking it from 46lb to 56lb….full of it & totally over the moon is the only way to describe him :-)
Congratulations & well done guys.
---
May 2015 Ed 41lb 8oz PB
A near record catch for Ed & Co.
June 26, 2015
Ed, Jim, Mark & Ken (Elite Carp Crew) very nearly beat the record for the number of Carp caught by a group of anglers in one week here at Genets. They managed 59 Carp between them which included new PB's for 3 of them.
The current record stands at 63 Carp caught by Danny, Anthony & Matt (Norf London International Carp Hunters ) strangely enough during the very same week in 2011.
Extract from feedback w/comm 28th May 2011:
Norf London International Carp Hunters
63 Carp banked!!! Including 2 new PB's
"We all had an excellent time fishing, & can't wait to fish here again. WALLOP!!"
--------------
Jim fishing the bay last week said " I found that hinged stiff rigs with sticky baits signature pop up accounted for a lot of my fish, fishing the far margins. There was no specific times they were feeding so it can happen any time, I had a double run so needed help with the other rod. We had some stunning fish but they make you work for them."
---
Marcus 53lb 8oz
A brilliant start for Marcus.
May 18, 2015
Saturday 16th May saw the arrival of Marcus, Annie & Pete on their annual carp fishing holiday to Genets. They got everything set-up & ready to put their rods out after returning from their evening meal in the lodge. Within an hour of putting his rods out Marcus banked his first fish weighing in at a stunning 53lb 8oz followed a few hours later just after midnight by a 44lb 12oz.
What a great start :-)
---
Lee makes it in to Carpworld
May 30, 2015
Lee Fairbrother makes it in to the May edition of Carpworld with his 2 new PB's caught at Genets.
Good angling Lee :-)
---
Lee has a second PB with the Lake Record!
April 11, 2015
Lee has broken his PB for the second time this week by landing the lake record which we're very pleased to see has not only maintained its weight over the winter months but has gained an ounce.
Witnessed by our 3 anglers & Larry.
Lee's words were: "New lake record beaten by just 1oz, 59.10oz of beauty! I'm speechless once again. Time to sleep!"
Well done & congratulations again Lee :-)
---
Lee 46lb 12oz PB
More New PB's
April 18, 2015
We have Matt & Lee with us this week on their first French Carp fishing trip & within their first 24 hours they have both banked new PB's, Matt with a 28lb 12oz & Lee this afternoon (Easter Sunday) with a 46lb 12oz.
Well done Lads :-)
---
First week of the season
March 27, 2015
A bitterly cold easterly wind, early morning frosts & even some hail has made for difficult fishing conditions in the first week of our season here at Genets but despite this on Wednesday afternoon Jason Gorman banked himself a new 52lb 11oz PB, this stunning Carp was taken using plastic corn over a small bed of maize.
Congratulations Jason, good angling :-)
---
Sunshine At Last
March 07, 2015
Dry sunny warm weather the last few days means more outside jobs have been ticked off the "To Do" list.
The wooden platforms at the swims all had a coat of wood treatment applied to them.. …TICKED
The outside of the mobile-home was given a good wash & clean down…..TICKED
We're almost ready for our first anglers of the season & the forecast is looking good :-)
---
New Carp Cradles.
February 14, 2015
For the 2015 season we have upgraded our unhooking mats to new top quality Carp cradles.
These along with weigh-slings & weigh tripods are supplied for your use free of charge.
If space is an issue on your trip to us we also hire out JRC Bedchairs & 2 Anatec Baitboats.
---
New stock for Genets.
January 28, 2015
We decided it was time to add some young virgin Carp to our existing stock & took delivery yesterday Tuesday 27th January of 17 Carp from Mr Bigot's fish farm, all Mirrors ranging from mid 20's to low 30's.
These deep bodied young Carp will grow on quickly & encourage the larger residents to move around more with the extra competition for food.
This will also give our early season anglers the chance to catch Carp that have never been caught before.
---
Winter work
January 20, 2015
The week of the 12th January saw major tree felling work being carried out around the lake, for this we used a professional tree surgeon as it was a far too big a job for us. This along with a lot of the smaller stuff behind the lake also having a drastic cut down at the same time by us will let a lot more sunlight through to the swims.
Quote from Adam Finch at ARB Service who carried out the work "3 large conifers and one big, bent poplar taken down beside a carp fishing lake. Small drop zone, bad weather and strong winds, but not a problem for arb service."
---
James 47lb 5oz PB
Early Season Fishing and New PB's.
December 12, 2014
The beginning of the season after the winter break from the end of March & during April normally brings good fishing with many new personal bests being achieved by anglers visiting Genets, 2014 was no exception seeing new PB's caught during all the weeks of April:
w/c 5th April Dave Hammonds party: Dave 39lb 14oz PB & Ross a 33lb PB.
w/c 12th April James Dawson's party: James 56lb, Richard 46lb & Ryan 32lb.
w/c 19th April Nathan Rose 35lb. Steve 47lb 8oz. Ken 44lb & Shaun 34lb.
w/c 26th April James Lovett 47lb 5oz Lee Crush 41lb 12oz & Richard Pearce 39lb 10oz.J
We look forward to seeing many more new PB's during the 2015 season.
---
Matt 34lb 6oz Aug 2008
Through the Years with Matthew.
November 21, 2014
Matthew Hutchings first visited Genets aged 14 along with his Dad, Uncle, Aunt & 2 Family friends in August 2007 when both Dad Mick & Uncle Pete celebrated their Birthdays here. Matthew has been a regular visitor in August ever since even taking time out this year to do his ice-bucket challenge here!!
We have seen Matthew progress through the last 7 years & would like to say special congratulations to him this week on his graduation.
Well done Matthew, we look forward to seeing you in Aug 2015
Heather & Larry @ Genets :-)
---
John Closs 48lb 12oz
Diss International Carp Kings Annual Trip
October 03, 2014
Chip Talbot on his 7th visit to Genets, arrived with the Lads on the 27th Sept bringing with them Dan Jones on his first carp fishing trip to France, hoping to beat his PB of 17lb.
Dan set himself up in the swim opposite the house & within 24 hours on Sunday landed himself a new PB of 36lb 4oz. We have been amazed at how often the Lake record has come out over the last few weeks clearly showing it is feeding up to hit the 60lb mark sometime soon so imagine Dan's utter joy when just after midday on Monday it decided to put in yet another appearance to one of his rods this time weighing 59lb 9oz upping the Lake Record yet again!! Both fish were caught on corn tipped maize.
John Closs had his PB of 33lb 6oz here at Genets in May 2013 but smashed it this year with 3 40lb'ers @ 40lb 7oz, 44lb 8oz & 48lb 12oz
The guys rested their swims twice a day by bringing their rods in to take breakfast & evening meals in the lodge, they ended their week with a total of 42 Carp.
Well done Lads, look forward to seeing you next year :-)
Heather & Larry.
You can read a great article by Dan over on the Northern Carp Angler blog here
---
Lake Record nearly at the 60lb mark
September 20, 2014
At 2 in the morning the phone rings, forgetting to put my glasses on (it looks like a French number calling) I rather abruptly answer "allo….ALLO" a very apologetic voice at the other end says " Is that Heather? It's Kevin here, I'm really sorry to disturb you but we think we've got a new Lake Record here, it's 59lb 2oz" Larry hot footed it round to their swim thinking "No, it can't possibly be" but after double checking the weight on 2 sets of scales it was well & truly confirmed that they certainly had got the new lake record !!

Unbelievably just 10 days after coming out at 57lb 4oz it must have really been on the munch to put on nearly 2lb in 10days & now tips the scales at 59lb 2oz!!
Whilst fishing here Kevin broke his PB 3 times, the first on Sunday with a 38lb 10oz followed 2 days later by a 39lb 9oz topping it off a few days later with this amazing 59lb 2oz Lake Record.
At this rate it's quite possible we could see it hit the 60lb mark by the end of the season…watch this space !!
Congratulations & well done Kevin :-)
---
New Lake Record!!
September 02, 2014
18 year old Tom Clark started off his week here at Genets by catching a new PB Carp of 41lb 8oz in the early hours of yesterday morning but today has again smashed his PB by more than 15lb landing the new lake record Carp weighing in at 57lb 4oz.
Witnessed & verified by Larry also Tom's Dad Paul & the rest of the guys here.
Congratulations & well done Tom :-)
Tuesday 2nd Sept 2014.
---
---
Ben Werrett 39lb 8oz PB
The weather cools down
August 11, 2014
After a couple of weeks of exceptionally hot & humid weather….great for sunbathing not so great for catching Carp…. last week 2nd Aug saw cooler temperatures & the fishing picked up for Steve, Ben, Dan & Barry 4 mates from Yorkshire on their first French Carp Fishing trip.
All went home happy having acheived new PB's.
Well done lads :-)
---
Baitboat Hire Update.
June 14, 2014
We now have a second baitboat available to hire, this is the Anatec Catamaran, it will be available to hire from the 12th of July at a cost of 80euros OR £75 per week.
Full details can be found in the equipment hire section.
---
Marcus 55lb PB
Second visit brings new PBs
May 24, 2014
Marcus, Annie & Pete returned to Genets again this year. Last year Marcus had a new PB of 46lb 8oz & Annie had her PB of 36lb 12oz.
This year Marcus has renewed his PB by 8lb with a 55lb while Brother-in–Law Pete beat his PB twice, the first time on Tuesday 20th with a 38lb then again on Thurs 22nd jumping a further 10lb with a stunning 48lb 8oz. They were so pleased they decided to pack their gear up after breakfast on Friday & have a day out to celebrate & see a bit of our local area.
Well done guys, look forward to seeing you all again next year.
Heather @ Genets.
---
Linear Record Weight
April 22, 2014
Our lovely Linear put in it's first appearance of the season last week on Monday 21st April coming out at a record weight of 42lb to Kenny Gagon giving him a new PB.
Well done Kenny :-)
---
Magnum White proves to be a hit with our Carp
April 10, 2014
The Carp were proving very elusive for Jack Hammond here at Genets this week with dad Dave & friends Shaun & Ross. Warm days but very cold nights has not made for easy fishing so on Monday morning they decided to give our lake boilies Quest Magnum White's a go & Jack started the ball rolling at 11am with a lovely 34lb 8oz Mirror, all fish caught this week so far have been on the lake boilies.
Jack was last here in Sept 2012 for his 16th Birthday when he caught his PB Carp at 47lb
A full report from Jack & Co with photos will be online at the end of their week.
Heather @ Genets.
---
Larry 47lb 9oz PB
Larry takes a fishing break
March 28, 2014
Having just about come to the end of our list of "jobs to do" in readiness for the arrival of our first anglers tomorrow Larry decided to put his rods out for a few hours late afternoon to test out the new lake boilies for this season. At 7pm his left hand rod went off at a steady pace resulting in a good 47lb 9oz Mirror which is a new PB for Larry (his previous PB being 44lb 8oz) he re-cast to the same spot & 20 minutes later off it went again this time he landed a 33lb 2oz Mirror. Both fish came out to the new lake boilies Magnum White 15mm.
Heather @ Genets.
---
Carp fishing & the World Cup
March 15, 2014
The 2014 World Cup starts on 12th June with England's first game against Italy on the 14th June, for any anglers wishing to watch the matches we have a full size TV in the dining lodge showing UK channels + on a separate connection a smaller TV in the mobile home also showing UK channels so no need to miss out on any of the games .
In just over a week our first anglers of the season will arrive, thankfully the weather has improved & most jobs etc around the lake are completed ready for their arrival, with the mild mostly sunny weather over the last couple of weeks there has been lots of movement on the lake & carp showing themselves…..just waiting for you to arrive :-)
Heather @ Genets.
---
D Povey 40lb Linear
Our famous Linear hits the 40lb mark!!
October 24, 2013
This stunning Linear a favourite of many of our visiting Anglers came out to David Povey on the 22nd October weighing-in at exactly 40lb, it was last out on the 11th Sept to Danny Brown at a weight of 37lb 4oz. With a weight gain of nearly 3lb in 6 weeks it's showing great potential for the 2014 season & no doubt will be targeted by many anglers :-)
---
Ed's first French Carp.
September 17, 2013
Ed Daw (on his first Carp fishing trip to France with friends Marc, Rob & Dan) had his rods in the water for less than 24 hours on Sunday 15th Sept, when just before lunchtime he landed his first French Carp weighing in at 50lb using CC Moore Live System boilies.
Great angling Ed :-)
---
Rare wildlife photos.
November 23, 2013
Going through some of the hundreds of photos kindly passed on to us over the years from visiting anglers before they leave on Saturday mornings I came across these. Many red squirrels & kingfishers are seen around the lake but it's so rare to be able to capture photos of them.
These are just so good I had to share them :-)
Heather @ Genets.
---
Alex 36lb PB
A Carp Fishing trip to France at last
August 24, 2013
Alex & James finally managed to get time off from work together to make their often talked about & long awaited first fishing trip to France on the 17th August.
During the hot spell of the past few weeks the fishing has been far from easy but Alex & James put their minds to it & really worked for their carp. They ended their week with 40 Carp banked between them including new PB's of 47lb for James & 36lb for Alex. The majority of their fish were caught on Sticky Baits The Krill boilies.
Their comments were: "We both enjoyed our stay at Genets, we both had several PB's and will definitely be back next year."
Well done Guys.
---
Birthday Boy.
August 10, 2013
This weeks guests are Brothers Alan & Peter Bond & Alan's Wife Angela on their regular 2 weeks fishing holiday at Genets. Special celebrations this year for Alan's 60th Birthday.
Great to see you all again & Happy Birthday Alan.
Larry & Heather :-)
---
A bit of trauma & a new PB for Anthony.
July 13, 2013
Anthony Brown fishing the week of 6th July here at Genets discovered just how important it is to have a current European Health Insurance Card (EHIC ) with you when fishing in France. On Wednesday morning while threading a dumbbell boilie with a long barbed baiting needle the needle went into the end of his finger, try as he might to remove it there was no way it would budge & his finger just started to swell. It was off to the "Urgences" dept at Fougeres hospital we went armed with his EHIC & passport. On arrival he was dealt with very swiftly, copies of his EHIC & passport were taken followed by an x-ray & a blood test to check if he needed a tetanus jab, the needle was then removed, the finger cleaned & dressed & within a couple of hours he was back at the lake putting his rods back out.
Do please always remember to get your European Health Insurance Card before travelling to France, they are free & very easy to apply for online or by telephone & can save you from receiving a hefty bill to pay once you return home.
On a lighter note Anthony during the same week also celebrated his 26th Birthday & achieved a new PB Carp of 34lb 9oz :-)
---
Reuben 46lb 2oz
Young Reuben's Birthday Treats.
June 13, 2013
Young Angler Reuben Hoon on his 2nd carp fishing trip to France is here at Genets this week with fellow anglers Martin, Mark & Dave. Reuben celebrates his 15th Birthday today the 20th June & has certainly made sure it will be a Birthday week to remember by smashing his PB twice yesterday within the space of just 4 hours, the first time being at 11am with a 41lb Mirror & again at 3pm with a stunning 46lb 2oz Mirror.
Both were taken from the same spot on a Quest baits Ghurkka Spice boilie from swim 3 opposite the lodge, pre-baited with a mix of pellet & chopped-up boilies.
Happy Birthday & congratulations Reuben :-)
---
Lake Special Boilies do the job for Tim & Hugh.
May 28, 2013
Father & Son Tim & Hugh Strange spent the week of 25th May with us on their first France Carp fishing holiday. Using the lake special boilies they both well & truly smashed their PB's Tim doing so twice, the first time on the Tuesday with a 47lb 8oz Mirror. Hugh followed on Wednesday with his new PB of a 41lb 10oz Mirror. Tim then beat his PB again on Friday with a 53lb Mirror.
Their tactics were to work as a team, Tim at the far bank with the remote control & Hugh at their rods sending out their rigs in the bait-boat, Tim then threw in a scattering of chopped-up boilies, pellet & maize around the area. This made for very accurate placement of their rigs in the same spot each time which worked very well for them.
Their comments at the end of the week were "An excellent week which exceeded our expectations, will definitely come again."
---
Stewie renews his PB.
May 16, 2013
The week of 11th May saw returning regular Chippy Talbot & his group fishing here at Genets.
Stewie who's previous PB of 40lb 14oz caught in May 2009 during his last visit achieved a new PB this year of 46lb 2oz.
Their words summing up the fishing here were "This is not a hard water but it is a thinking anglers water!"
---
Dave's 2 new PB's within 3 hours.
May 06, 2013
On Sunday 5th May at 1pm Dave Wilcock landed his new PB of a 34lb 4oz Mirror; feeling extremely pleased with himself he decided to reel in for an hour or so to rest his swim & have a chat with his friends fishing with him. At 4pm having not long put his rods back out he again renewed his PB with a stunning 43lb 11oz Mirror taken on just 2 pieces of maize with a piece of yellow foam in between!!
Good angling Dave
---
Dan doubles his PB.
April 13, 2013
Dan Alexander fishing here at Genets this week called us at 1am this morning Tuesday 23rd April to witness a Carp in the net weighing in at 50lb 6oz, this has more than doubled his previous PB of 25lb!!
Congratulations & well done Dan.
---
First Week of the New Season.
March 30, 2013
The first week of our 2013 season started yesterday 23rd March with Ross Orme arriving for his first Carp fishing trip to France, within just a few hours of putting his rods out Ross had a new PB when he landed this beautiful 32lb 4oz Mirror.
Well done Ross.
---
A rare dry day!
February 16, 2013
Great, no rain, no snow but a rare dry day with some sunshine. This made us grab the opportunity to make a start on the annual cutting down and general tidying of the bamboo to give more light and room near the swims ready for the start of the new season next month.
Larry & Heather
---
Jack's Birthday PB.
September 22, 2012
Jack Hammond here at Genets this week for his 16th Birthday (which is today) has beaten his PB by over 20lb by banking a beautiful 47lb Mirror
Happy Birthday & congratulations Jack :-)
Heather @ Genets.
---
Joss Hill 34lb
Joss, first 5 Carp…all new PB's!!
September 08, 2012
Joss Hill arrived at Genets on Saturday 1st Sept with his Girlfriend Lana on his first French Carp trip hoping to achieve a new PB.
He certainly was not disappointed as the first 5 Carp he caught were all new PB's !!
He left very happy yesterday morning with a new PB of 34lb.
Well done Joss.
Heather & Larry @ Genets.
---
New Lake Record @ Genets.
April 19, 2012
We woke to frantic knocking on our window at around 1am this morning to find Tony Tubby with an ear to ear grin on his face there to tell us that his Brother-In-Law Dan Johnson had a new lake record Mirror in the net. Larry promptly threw clothes on & went round to see an ecstatic Dan. The Carp was retrieved from the water, weighed again witnessed by Larry the scales read a whopping 56lb 2oz which is indeed a new lake record for Genets
This is a known Carp which came out at it's record weight in May 2011 at 53lb 12oz.
Not only is it the new lake record but also Dan's first French Carp & new PB beating his UK PB of 16lb by over 40lb !!
Congratulations & well done Dan.
Heather @ Genets.
Thurs 19th April 2012.
---
Josef Tubby 24lb 8oz
Josef age 9 youngest Angler to land a 40lb+ Carp
April 18, 2012
Josef Tubby age 9 on his first fishing trip to France has become the youngest Angler to bank a Carp over the 40lb mark here at Genets. Fishing with his own 2 rods during the daytime he was already very happy this afternoon when he landed a 24lb 8oz Common his first PB so could hardly believe it when 2 hours later he hooked into a 45lb 8oz Mirror. Josef who has been fishing with his Dad since he was 5 years old played both fish himself & was then helped by Dad Tony to land & weigh them. With Josef suffering from aching arms Dad held the 45lb 8oz for the photo. Well done & congratulations young Man.
Just 40 minutes later Josef's Grand-Dad Michael on his first trip to France also banked his own PB of 36lb 4oz.
It was big smiles all round the dinner table here this evening.
Heather @ Genets.
Wednesday 18th April 2012.
---
New Season, New PB's.
April 07, 2012
The opening week of our season saw heavy rain & bitterly cold north-easterly winds make for a difficult week of fishing for our first guests the Penfare group, however their last day Friday the 13th brought one of them a new PB of 47lb. See pic below.
Tony Tubby & his party arrived on Saturday 14th with a PB of just 10lb & swiftly smashed this by 30lb when he banked a stunning 40lb Mirror within a couple of hours of putting his rods out after dinner on Saturday evening. (Photo to follow later.)
Heather @ Genets.
Mon 16th April 2012.
---
Lodge & Showers get a Make-Over.
December 17, 2011
We decided it was time to give the Lodge, Toilets & Showers a much needed make-over prior to the 2012 season, during the 8 years since we opened in 2004 they have had a lot of use & served us well. The first job was to tile all the floors right though which is now completed & looks so much better. Next was the job of removing all the old tiles in the shower cubicles (& what a seemingly endless job that was, me & my big mouth again!!) new ones are being put up followed by all interior walls & ceilings to be painted. Me insisting that I would be best suited to being Head Supervisor to this work fell on deaf ears & I just could not manage to get out of being general labourer & gofer…..not a problem as long as we took plenty of coffee breaks!! I am entrusted with a paint brush & paint & when I'm in paint mode anything & everything gets a coat of paint..the dogs stayed well clear of me!
We also took advantage of the good dry weather in November to get a couple of coats of paint on the outside Lodge walls.
So by the end of January the Lodge & Showers will look all refreshed & ready to move things back in readiness for the new season.
The weather being kind to us in November was also a good opportunity to get cracking with the annual chop down & clearing work in & around the lake.
We have enjoyed the company of many Anglers during the 2011 season some new to Les Genets & others returning customers & we would like to wish all Anglers & the team at Angling Lines all our very best wishes for Xmas & the New Year & look forward to seeing many of you again in 2012.
---
Gary re-writes our menu!!
October 31, 2011
Gary Smith, fishing here at Genets from 22nd to 29th Oct, decided to put his own interpretation to our menu which made us smile. His comments are shown in bold print below.
---
A great start to school hols for Chris.
July 16, 2011
Chris Head (age 12), fishing here at Genets for the first week of his school holidays, was over the moon when he caught his first ever 30lb+ Carp at 11.30 on the Wednesday morning using a Mainline Cell boilie.
Chris & his Dad arrived with us on the Sunday & fished daylight hours only, also bringing their rods in to take their meals in the lodge.
Well done Chris on your new PB.
---
Danny 47lb 10oz
1,066lb of Carp... & it's only Wed Breakfast Time!!
June 01, 2011
3 Anglers, Danny Matt & Ant, fishing here at Genets this week have landed 47 Fish between them so far, the biggest being 52lb 2oz.
Total weights 1,066 lb…. & it's still only 9am Wednesday!! A few photos below.
Plenty of detailed photos of their catches with corresponding weights will be added to our fish photos page at the weekend.
Well done lads.
Heather @ Genets. Wednesday 1st June 2011.
---
New lake record at Genets
May 08, 2011
Adam & his friend Chris arrived with us here at Genets yesterday 7th May looking forward to their first Carp fishing trip to France.
They had their rods in the water for less than 24 hours when at approx 1.15pm Adam landed his first French Carp weighing 53lb 12oz. Not only has he totally smashed his PB which was 26lb it is also a new lake record.
This beauty was caught on a CC Moore Odyssey XXX snowman in cloudy weather conditions with light rain. The weighing on digital scales was witnessed by Larry & 2 anglers from the other party here this week.
This Carp last came out on 5th October 2010 at 51lb 8oz also on Odyssey XXX . Adam is of course over the moon.
Congratulations & well done Adam!!!
Heather. Genets. Sunday 8th May 2011.
---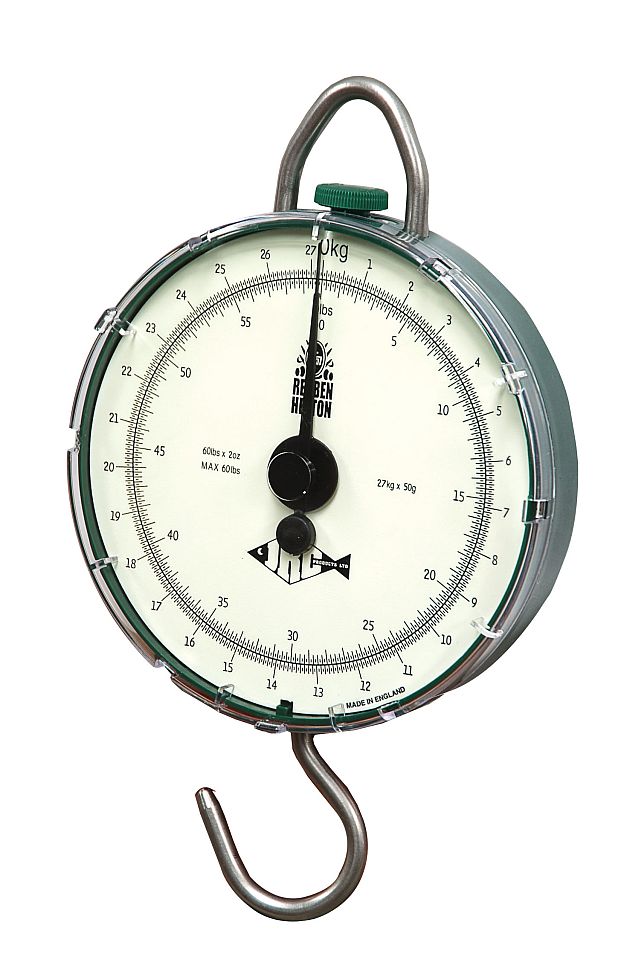 The importance of a good set of scales
June 02, 2010
Call it what you like... a plea... a reminder... or simply just a request, please, please please any fishermen, & of course fisher ladies (although of course it's well known that us girls are generally well prepared & don't need reminding), coming to France for a spot of carp fishing do remember to bring with you a good set of scales capable of weighing up to at least 60lb.
What could be worse than catching a carp that you just know by the feel of it is going to be a new PB for you & when you come to weigh it the scales bottom out at 30 or 40lb… horrendous!!!
We had an occasion here quite recently where the guys had scales going up to 40lb so we had lent them ours to use (going to 60lb). One guy had a run in the middle of the night, he could feel it was a good size fish, duly landed it, weighed it, 39lb 8oz, pics took & returned it to the water. Then after all the rush & excitement had calmed down & everyone was fully awake he realised they had used his own 40lb scales instead of our 60lb ones!
He was, as you can imagine, quite gutted. The next day we put the photo on the computer to take a good look & see if we could recognise it by comparing it to photos on our captures board in the lodge. It was instantly identified by its distinctive markings as the 51lb carp that first came out in May 2009. It had bottomed out his 40lb scales & sadly we now have no way of knowing what it actually weighs until it comes out again.
On another more recent occasion we had a group of guys arrive all with scales only weighing up 30lb. Although we do have a set here for emergencies, one set between a party of 4 or 5 anglers really is not enough. I'm sure most other lake owners would echo my sentiments when I say do please invest in a good set of scales weighing up to at least 60lb.
Happy carping all & don't forget your sun cream.
---
Marcus on his carp fishing week at Genets Lake
October 14, 2011
I'm not one for getting stressed, I've always been a fairly stress free person happy to take life and people as they come. I'm not highly strung or demanding (though my wife may disagree!) I like things done right and I'm a stickler for planning. Therefore it came as some surprise that I found myself getting annoyed with the children and short with my wife. Given the fact that I have a target driven job, as I have done for the last 12 years of my working life I could only put my recent angst down to the fact that the 16 hour working days and the constant travel, meetings and presentations were having an adverse affect on me....
---